Our Game Server Reseller Packages allow you to have complete control over your games without the hassle and expense of managing a dedicated server. Provided with a feature packed Reseller panel, you will be supplied with the capability of creating and managing your own game servers. This is a perfect service for larger clans and new GSPs.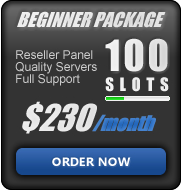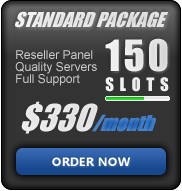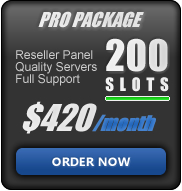 *GST Included in all above pricing.
FREE setup on all packages.
- Full Reseller Control Panel
- Client control panel (Individual users for servers)
- Sydney located servers for optimal ping Australia wide.
- Premium Hardware (2x Quadcore XEON E55xx, 24-48GB RAM, 2TB HDD, 100Mbps)
- Many supported games (If you need a game not listed, please just ask)
- Support for PRIVATE and PUBLIC, 500 to 1000FPS and 66 to 100TICK servers

Call of Duty
Call of Duty 2
Call of Duty 4
Call of Duty WaW
Left 4 Dead
Left 4 Dead 2
Counter-Strike 1.6
Counter-Strike: Source
Day of Defeat
Day of Defeat: Source
Team Fortress Classic
Team Fortress 2
Condition Zero
HL2: Deathmatch
Hidden Source
Insurgency
Killing Floor